Dow Games
Dow Games landing page. Each of the 10 red "diamonds" would be a rollover to a game, a webisode, bar trivia (covering sports/chemistry), etc...subtle background movement would be persistent (sailboat, red bus, planes, moving, etc...)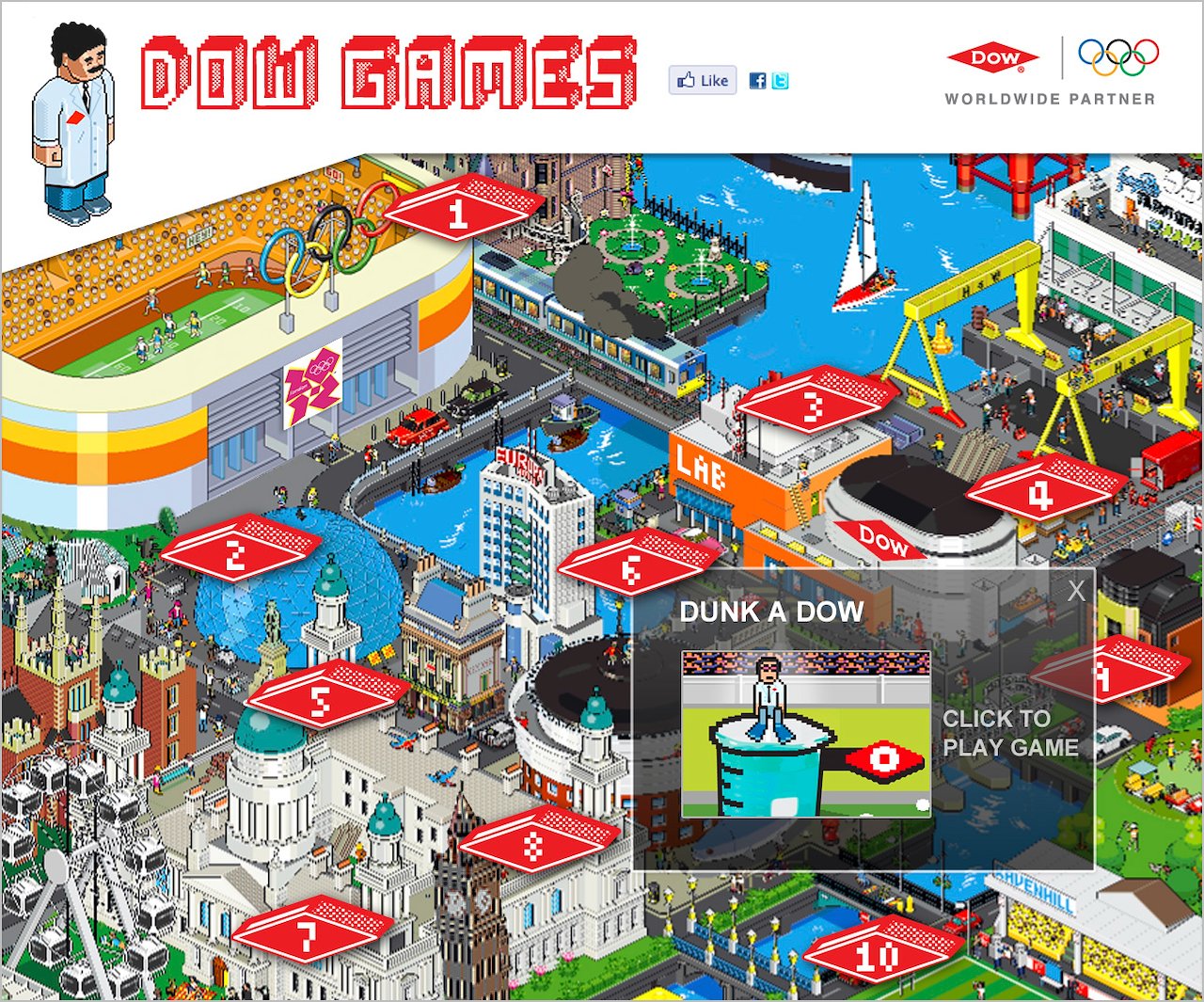 Example of a diamond flyout. In this case highlighting a Dow game "Dunk a Dow" scientist.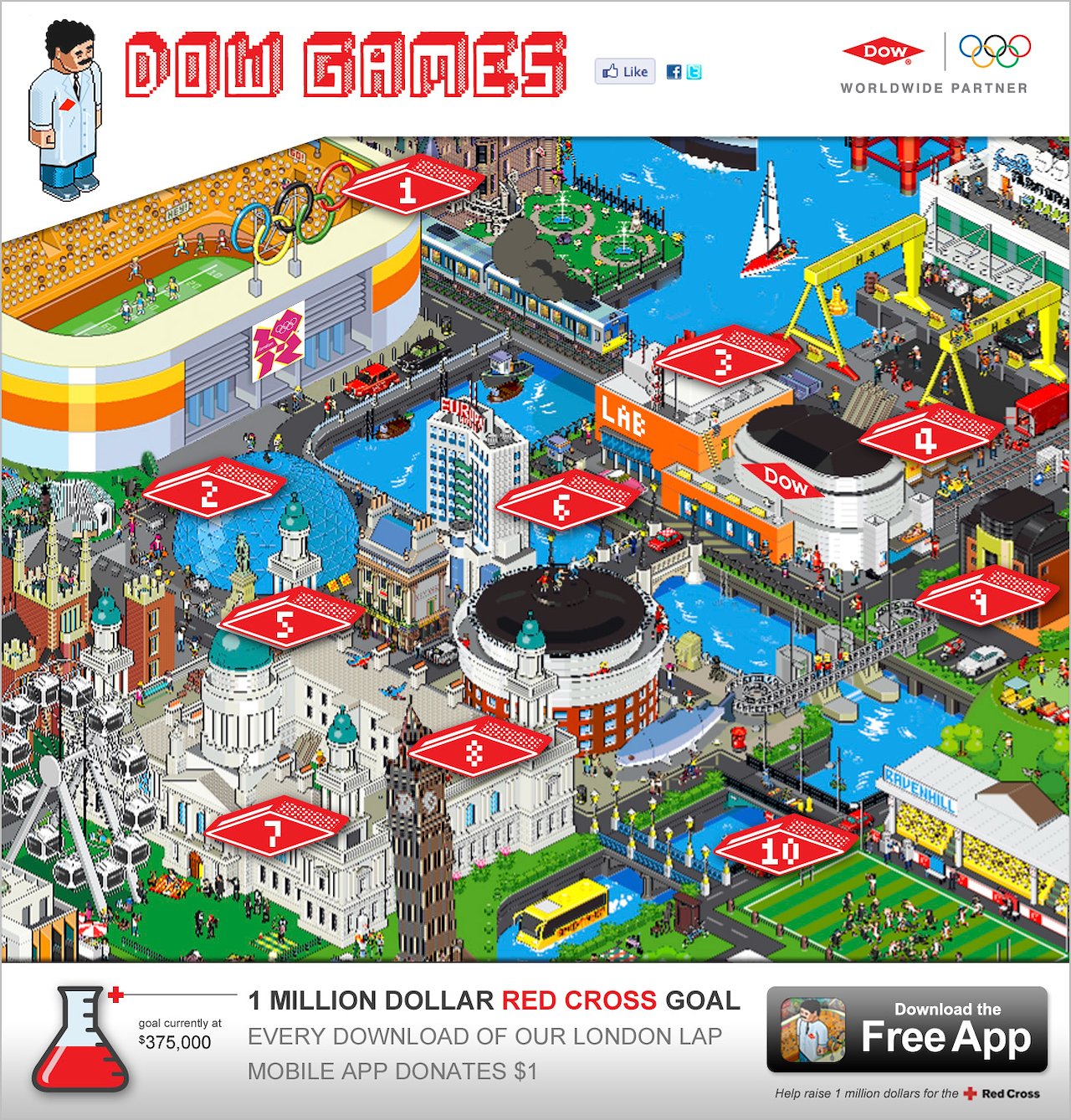 This screen highlights a cross charity branding with the Red Cross. Each download of the Dow Games app equals $1 to the cause. The beaker graphic
indicates the real time dollar amount raised.
Home screen of the Dow Games App.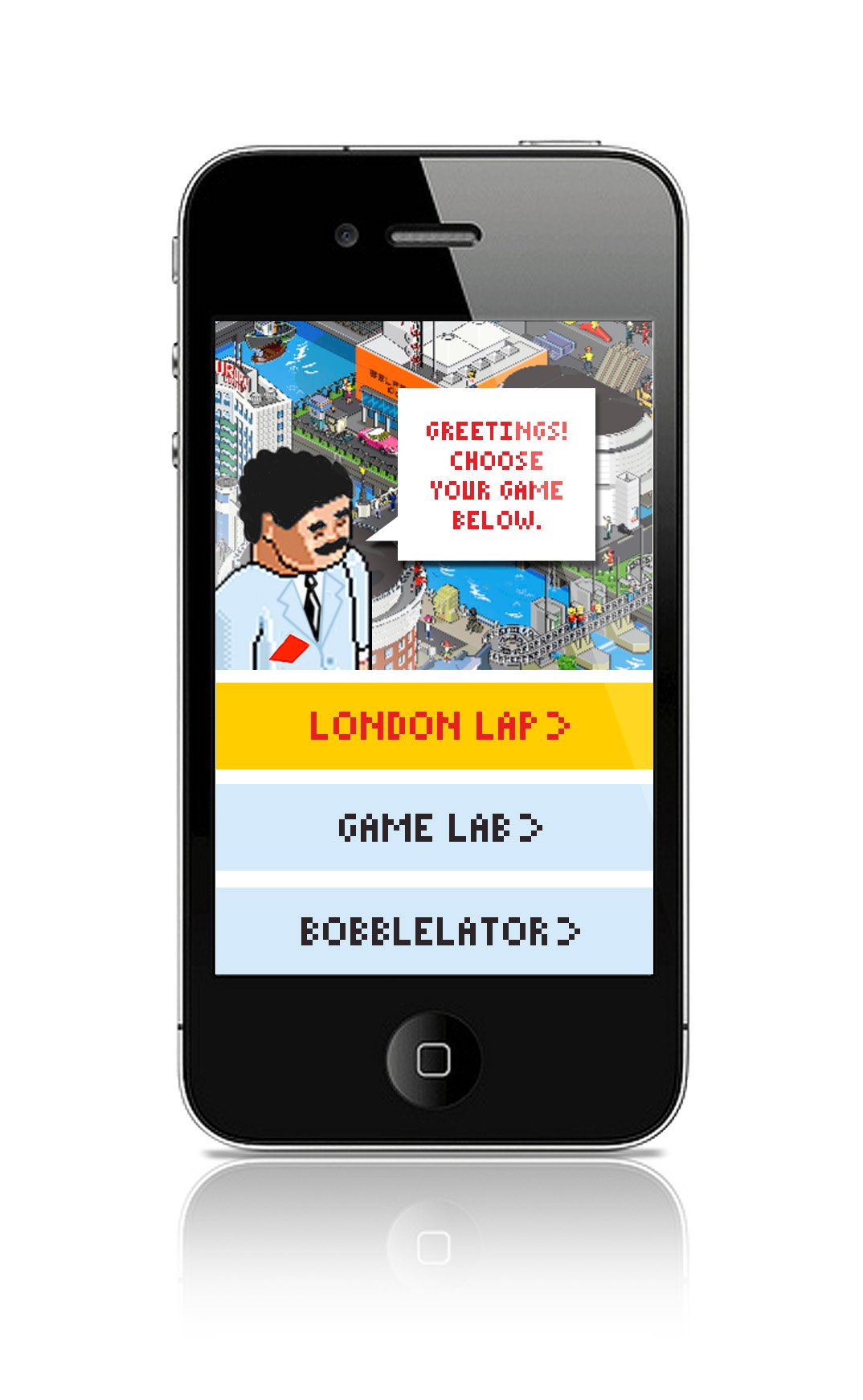 Navigation screen of the app. The scientist pops up throughout the experience as a friendly guide to help explain or offer a bit of Dow facts or trivia. The character also integral to the app game.
This is a wide view of the "London Lap" game. One would "pinch" or zoom into the screen to better navigate the street maze. The goal is to collect bronze, silver and gold metals, along with Red Crosses. Try to avoid hitting double decker buses, the goal, get to the Olympic stadium in the least amout of time, while collecting points along the way. Solve the screen and move to the next maze/stadium in a different part of the city. If you get lost, bump into a Dow diamond for hints to the game.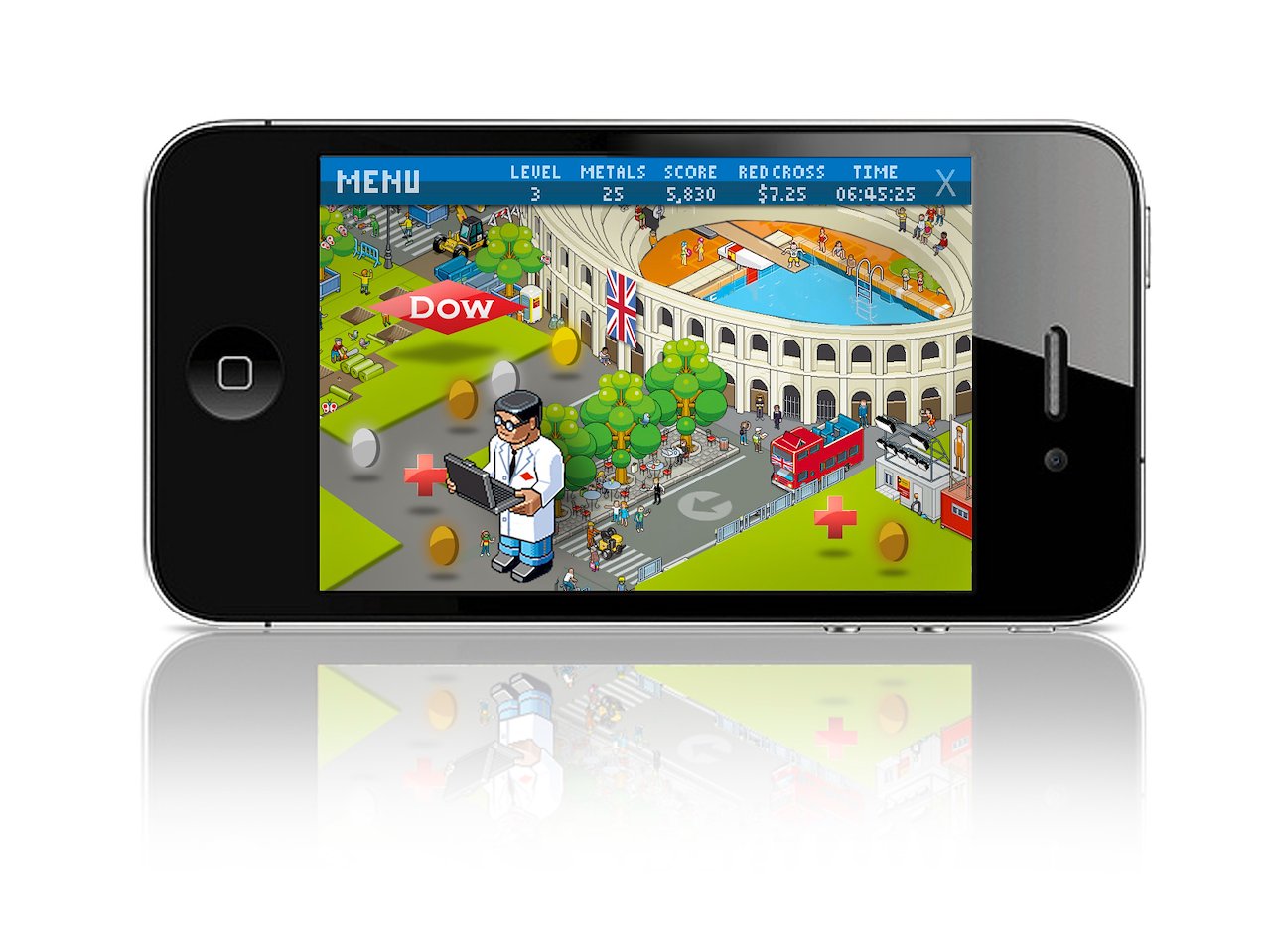 Zoomed in view. In this screen the scientist has almost made it to the stadium.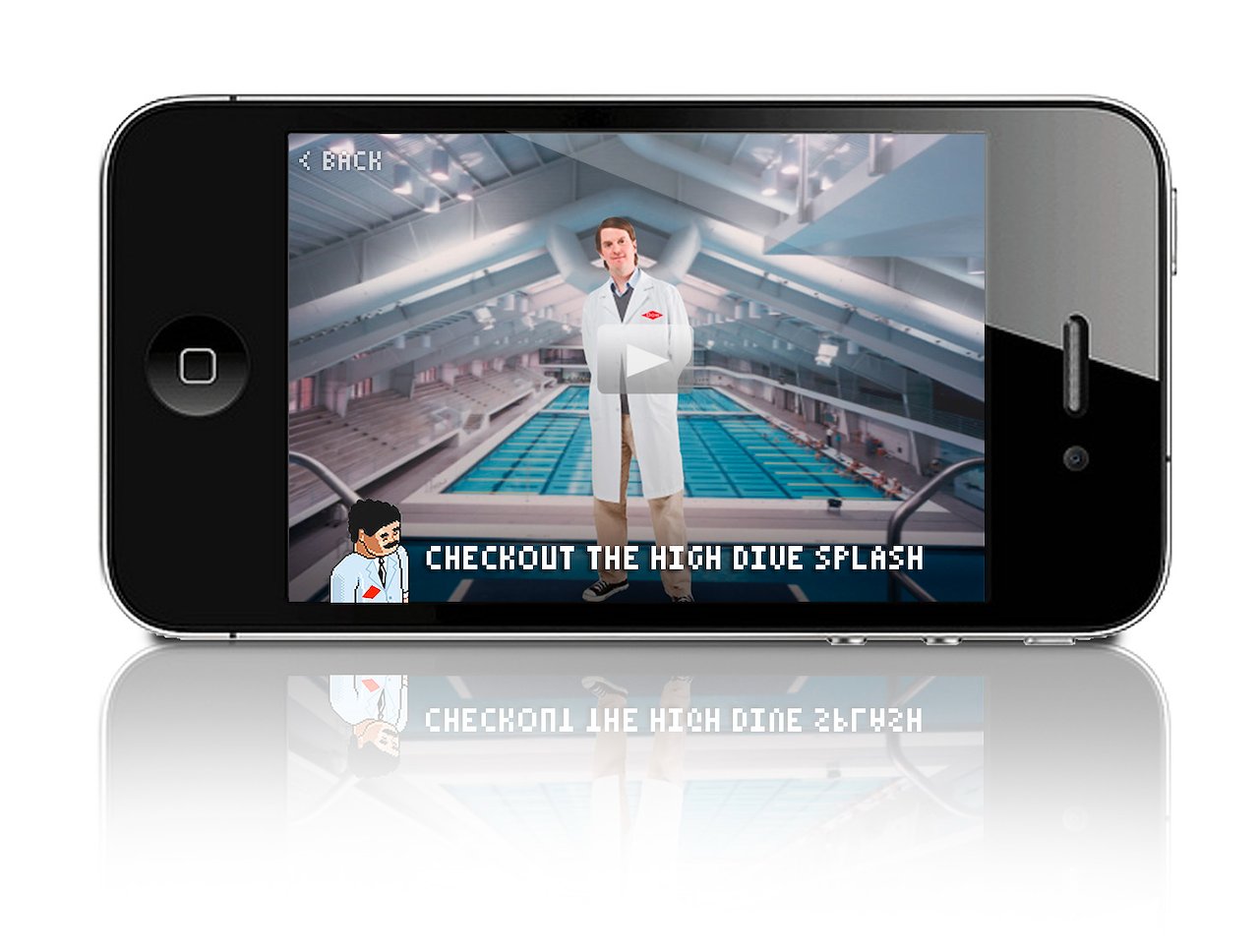 Funny webisodes would be throughout the experience. Once the user is inside the stadium an option to play a funny video would play. In this scenario, the scientist does a belly flop off the high-dive. The scientist of Dow aren't at the games because they are world class athletes, but they are world class chemist. Many Dow innovations can be found at the games, from the responsive turf, to light and strong helmets, to the comfortable seats in the stadium, etc...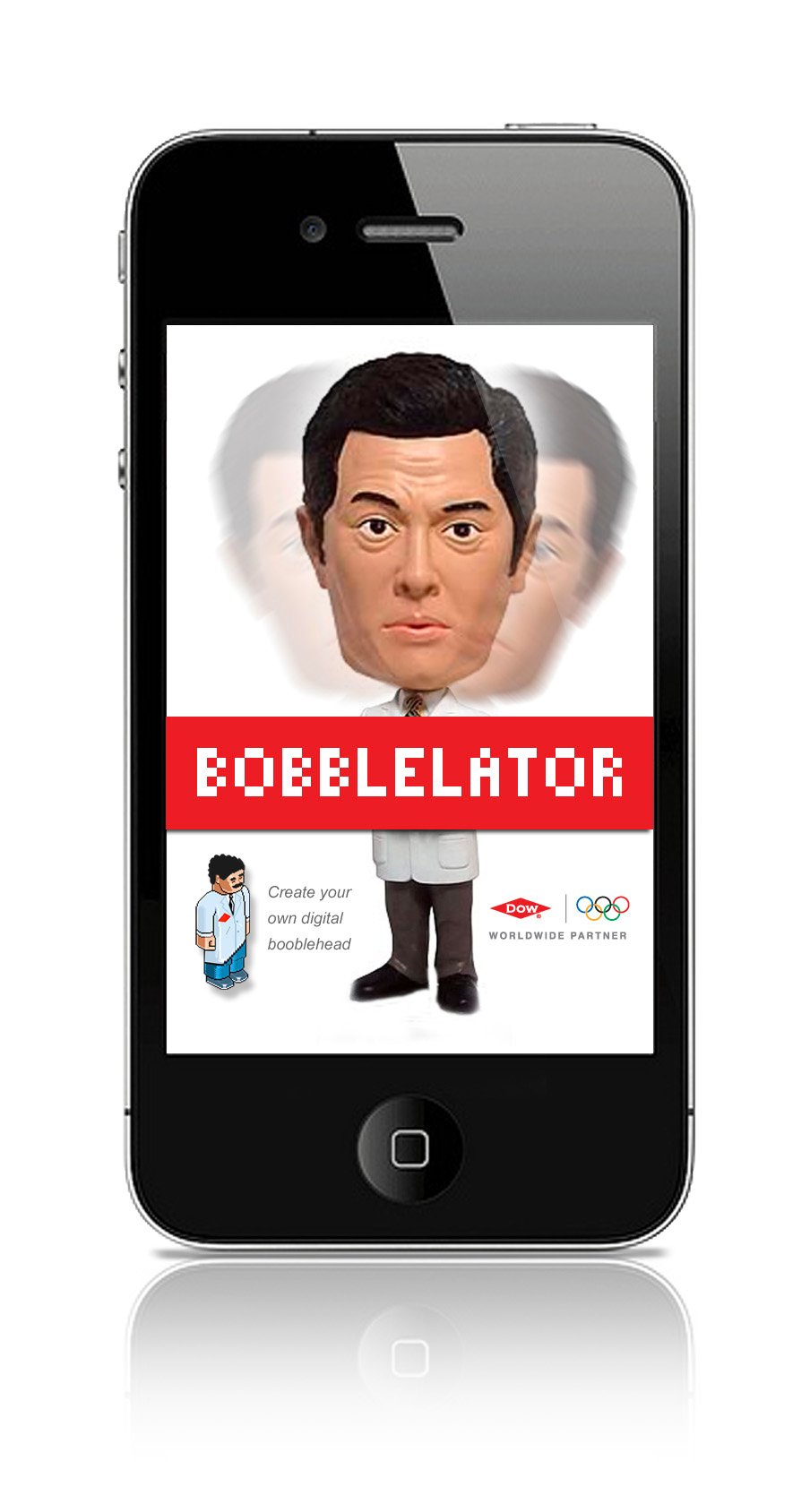 The "Bobblelator" is another example of a entertaining item that can be found on the landing page or the app. Upload your photo and have an avatar bobble-head.of yourself to share with your friends and family.
Dow Chemical was the official Chemistry sponsor of Summer Olympics. They wanted a consumer friendly digital campaign that would let the world know of this partnership, and along the way, let the user have some fun and perhaps learn a bit about Dow and its passion for world class sports. "Dow Games" literally puts the scientist at the London games, and allows the user to experience a virtual 8 bit world.
A landing page, app, online advertising, and social components helped leverage this eye catching take on the London games. Also a strong fund raising tie to the Red Cross, challenged the users to help raise $1 million dollars to the charity, allowing more incentive to share and get involved.
---
Role Art Director

For Dow Chemical — London Olympics

Date 2011

Type Campaign
Up Next:
Citi Cards Social